CAREERS
CURRENT VACANCY

Thank you for your interest in Emirates Future International Academy
We are looking for Qualified & Experienced Professionals in the following categories for the Academic Year 2022-2023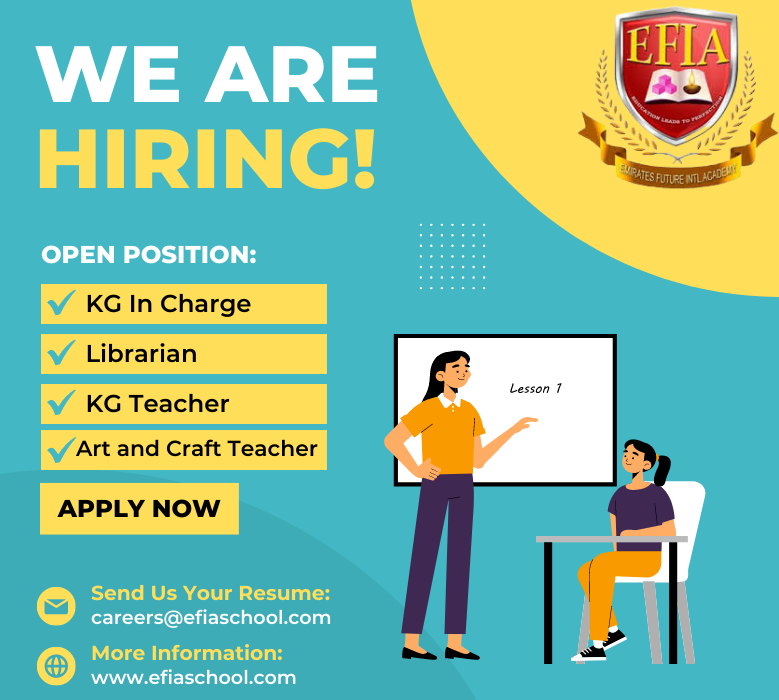 Qualification : Bachelor/Master Degree with B.Ed with 2 years of experience.

Candidates should satisfy the following requirements
Please forward your updated CV to careers@efiaschool.com

Upon review only selected candidates will be contacted by the school

Questions?
This is a list of some of the questions that we most often are asked. For any other questions, please write to careers@efiaschool.com

1. What qualifications are teachers required to possess ?
Typically, we recruit teachers who have a valid teaching certificate and at least two years of teaching experience. Beyond that, we are looking for teachers who are highly motivated, are interested in expanding their own learning as well as that of their students, and are willing to take on important responsibilities outside of the classroom.

2. When do new teachers begin and end work?
With new teachers arriving to the school are to be considered, to be in their probation period for a period of three months. Based on their performance during these days the management has the right to make the right choice!! The decision of the management will be final.
Holidays are subject to change by the Ministry Of Education.